What can an artist do at a war? Yurope99 was presented in the 48 Venice Biennial.
This web-art piece was created to keep company to artists in Belgrade who suffered under the bombs during the Balkan war. The Belgrade artist group POW first and the Italian collective of artists Oreste later, have included this net-art piece in their own art projects.
I try not to think about the 90s in Balkans, still angry and feeling cheated for my 20s have been stolen from me; but at the same time, i survived and so many others died for the stupidity of human kind...
Larisa Blazic artist and architect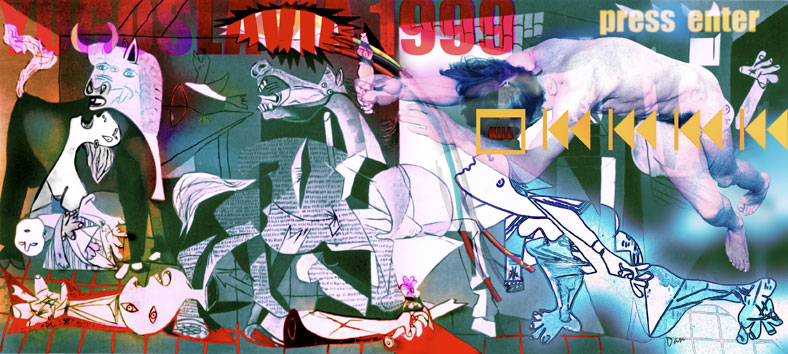 Fri, 26 Mar 1999 16:35:12 +0100 From: larisa blazic
dear friends,
what should i say to you, while i'm trying to get out from this country.

all my dear friends, i couldn't expected this in my wildest dreams.
it is almost ten years of war madness in this country, and no politician [especially slobodan milosevic] can not find in dictionary words such as COMMON SENSE, TOLERANCE & most important PEACE.
we deal with anxieties, fears, frustrations & consequences of living in the environment where borders & various forms of limitations of a closed society burden a human being.
i've added links as well as b92help logo, too. it will be on line soon. keep you posted on that issue.

thanx for info msgs & all love & support.
love lara.
Sat, 27 Mar 1999 01:16:19 +0100 From: Slobodan Markovic
Just back from atomic shelter under my house to pick up more blankets and pillows...
There was HEAVY air-raid on Belgrade this night. Warning sirens turned on after series of heavy detonations... It was too late...
Whole building in which I live was shaking like it was an earthquake and windows screeched. I jumped out from bed and run to window. I was almost blinded with great orange-red ball of fire, some 5-6 km to the east of my house. Two more explosions followed, probably cruise missiles...
It was bloody near!
I woke up my brother and we run to the atomic shelter.
On the radio I heard that chemical plant was hit and something leaked... My friend, who just dialed me, told me that almost whole city felt some chlorine-like smell.
They are talking on TV right now that air-warning is not over yet, that we should expect one more (aircraft) raid very soon and to immediately go to shelters...
So... later, Sloba

…he dropped his bombs in good faith, as expected on a trained pilot of a democratic government. (NATO speech)